Contact functions@morpethrfc.co.uk or Gary 07740 161284
Welcome
With ample free parking our well-appointed clubhouse enjoys one of the finest settings in the area and allows us to offer far more than rugby. No matter what the size or nature of your event we invite you to come and talk to us. The flexibility of our facilities means we can handle anything from a small meeting right through to a fully planned and serviced wedding and we are licensed to host Civil Marriage Ceremonies. For those that want it, or when numbers exceed what can be accommodated in the clubhouse building, we have a strong working partnership with Waltons Marquee Hire of Ponteland (www.waltonsmarqueehire.co.uk). Our high quality in-house catering service is provided through our partnership with Sandra Shaw.
So next time you or your organisation has a mind to stage a function or you require a venue for a meeting/ conference why not come and talk to us...
Facilities
We have three rooms available for hire and these come with or without bar and catering services depending on your requirements. The Club Room and The Ted Laidlaw Suite, both with bars, supplemented during the summer months using marquees, we can accommodate more than 300 people depending on the type of function and layout required. For corporate meetings or presentations both rooms have a "big screen" and projection capabilities.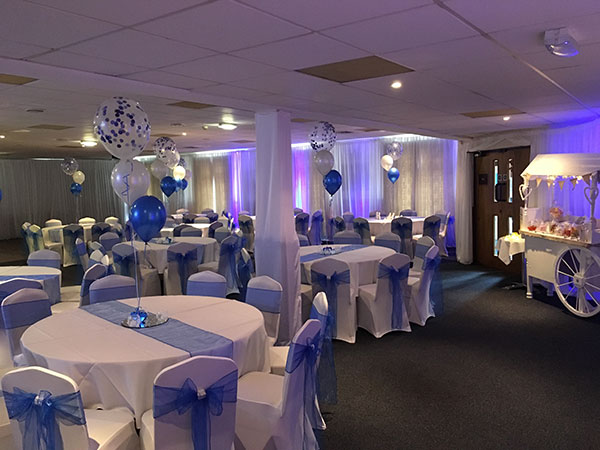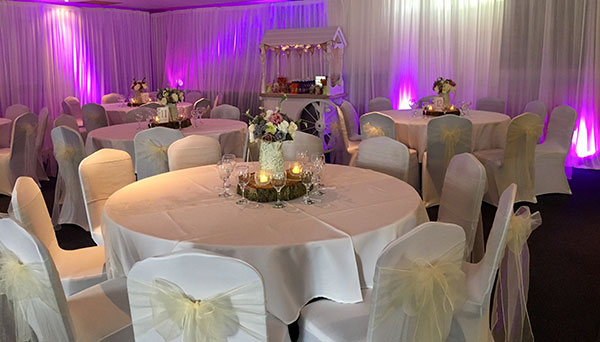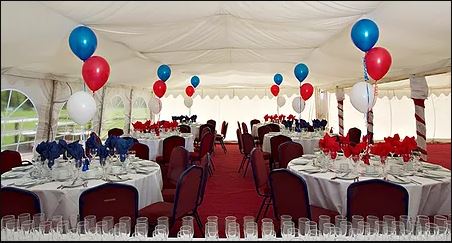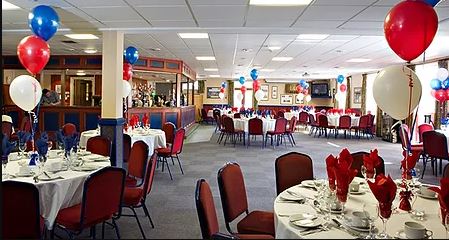 Club Room
This is the larger of our two rooms. It can accommodate up to 150 people seated formally at round tables and more in a less formal configuration. These numbers can be increased significantly by linking a marquee directly to the clubhouse. The room has a fitted dance floor and area for entertainment e.g. band or disco.
The Ted Laidlaw Suite
Situated on the first floor a chairlift ensures that everyone can access and enjoy this attractive room which opens onto a small terrace. The Ted Laidlaw suite provides a quite different setting than The Club Room and accommodates between 70 and 100 people depending on layout and seating.
The 1975 room
The smallest of our function rooms which is ideal for a meeting or perhaps a family meal. It is ideal for parties of around 20-25 people.
Weddings at Morpeth Rugby Club
Fabulous, unique and affordable, a wedding at Morpeth Rugby Club will be a day to remember and treasure forever. With three great rooms and a warm family friendly atmosphere we are the perfect location in Morpeth for your ceremony and reception. Combine our picturesque setting with superb dining, fine wines and professional service to create the perfect venue for your special day.
Catering
Through our partnership with Sandra Shaw we are pleased to offer a full range of high quality catering choices. You are free to make your own arrangements for catering if you wish but please note that we cannot make the kitchen available in these circumstances.
Why not call us?
So now that you know what we have to offer why not give us a call? Whether it's a wedding, party, reception, corporate event or a small meeting we will give you our full attention and do everything we can to meet your needs.
Contact Details
Club Website: www.morpethrfc.co.uk. Room bookings and function enquiries: Gary (07740 161284 or functions@morpethrfc.co.uk) Catering only: Sandra (07969 317932 or deli-farm@hotmail.com)